One Family, eleven kids, seven NightWatch. Read their amazing story.
The Linders from Blaubeuren in Germany have 11 children, 7 of whom have untreatable epilepsy with nocturnal seizures. We visited the Linder family at home to report on their large family, which is a blueprint for liveliness, love and structured everyday coping.
When seven out of your eleven children have been diagnosed with epilepsy and have seizures at night, you are dependent on support in everyday life and to keep your nerve. The best solution for the Linder family in Blaubeuren was NightWatch epilepsy monitoring, their children's daily companion at night since February this year.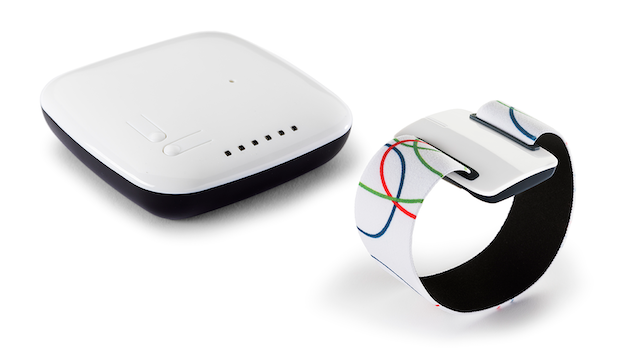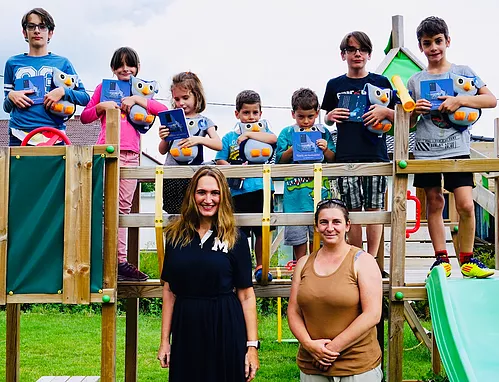 Our German team recently delivered the latest NightWatch to the Linder family. It is for five year old Marina. "Is that the lady with the owls?" we heard the children call from inside. And then they were all standing in the doorway, seven curious children with big eyes. Inside, the first surprise awaits us. The front hall looks like a friendly kindergarten, a colourful cloakroom where each child has its own labelled cupboard. The children sit down neatly in their respective places, and we are immediately touched and impressed by so much cheerfulness, lively childlike qualities, friendliness and curiosity. Mrs Linder welcomes us very warmly; she is used to people being curious about her large family of now 11 children.
We brought our new cuddly owl, Buddy, and a new NightWatch children's book for each child, and each of them hugged their owl tightly. We all went into their beautiful big garden to take some photos. I admiringly asked Mrs Linder how she manages to be so relaxed and look so good in what seems to me to be a very stressful situation with so many children, some of whom are affected by epilepsy. "It's no use getting stressed out," said Mrs Linder, "you can only do one thing at a time."
She told me that NightWatch has definitely improved her life. Before her children used NightWatch, she used to pace around all night because she was afraid something would happen. "This went on for years, day in and day out, I couldn't sleep. I had no sleep rhythm at all." Then, at the beginning of the year, she read about NightWatch on Facebook and became immediately enthusiastic. Together with her neuro-paediatrician, Dr Johannes Krämer, from the SPC in Ulm, she applied for the first NightWatch for Paul through her health insurance fund. When the first NightWatch arrived, she tried it out on every child and for all of them NightWatch perfectly detected their nocturnal seizures and alerted them in time. Since NightWatch worked so well, she applied for one for all the other children. "We always discuss everything very openly with Dr Krämer and always together and we get great support. "It took about five weeks for each NightWatch to be approved by the health insurance company for each child (and eight for the one for Marina, who is one of triplets). Applying for an assistive device turns out to be really difficult even though we really need this technical support."
​And now, finally, all seven children have their NightWatch. The Linder family can rely on NightWatch, sleep better and they only have to get up at night when NightWatch sounds the alarm. "NightWatch makes our nights a thousand times calmer, and I only get up when the alarm rings because I then know that a seizure has taken place."
​Mr Linder is an engineer and has mounted all the base stations on a board and, of course, labelled them so that you can immediately see which alarm has gone off. NightWatch has recently started entered into partnership with the Helpilepsy app, so the Linder family immediately downloaded the app, created an account and registered a NightWatch. Now they can also see the alarms in the app on their mobile phone which is another improvement for coping with everyday life.
"NightWatch is so ingenious and easy to use".
All seven children in the family affected by epilepsy have nocturnal myoclonic seizures, which occasionally progress to generalized tonic-clonic seizures and require emergency medication. Before NightWatch, the Linder family tried another monitoring system with a sensor on the bed and on the wrist, but it did not detect the seizures very accurately and Mrs Linder was disappointed in the product. When she tried NightWatch, it was a huge relief to see that the seizures were detected.
​"NightWatch is so very easy to use: you immediately understand how it works. It feels nice and soft; it doesn't hurt the children," says Mrs Linder. "It's just brilliant that their heart rate and movements are monitored at the same time as this is the only way to detect the myoclonic and milder seizures. It's a major help." 
After the photo session, we sit with the family and the children in the kitchen for a while, then one by one all the children retreat to their favourite corners with their tablets and other toys before going to bed. The bigger boys shout something loudly from the hallway. "What's going on?" asks five year old Paul, running like a little police officer to his siblings. All the children and the loving parents give the house a happy serenity: really admirable. We feel very comfortable in amongst all this liveliness and love. Later, Mrs Linder told us that the triplets, Marina, Paul and Olaf took their owls to kindergarten and that Josefina had given her owl a hat and tucked it in before going to bed. We were very touched and wish the family and the children all the best, lots of support and strength to cope with their future.